Blog
2020-01-17
Digital Sales - Example Krugerwildtuin and Marloth Park
Marloth Park borders the Kruger National Park in the South and there are many self catering holiday homes. There are a few Facebook groups where people looking for / offering accommodation interact with each other. Some people feel that their own Facebook marketing efforts are enough and that they do not need a website. There is always an exception. To find leads all one has to do is to join certain groups.
See the example below where someone asks for accommodation and then there is 29 comments. For this example I will take the first name I see and drill down deeper.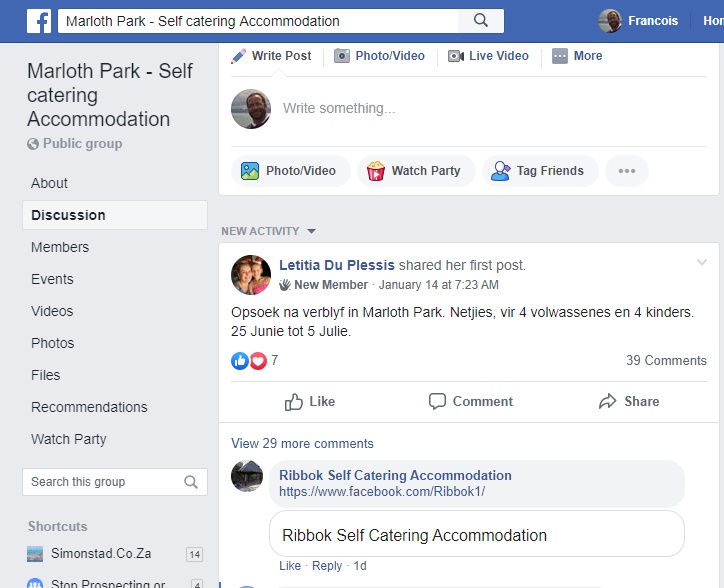 I then click on the link for the Facebook Page of Ribbok Self Catering Accommodation. See Image below: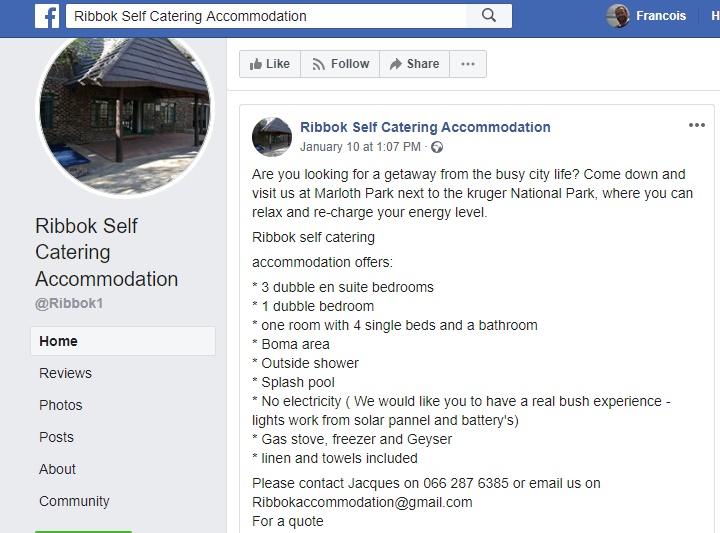 From this, I can gather a lot of information. For instance, I picked up that the person managing this page and whose contact details are listed is Afrikaans.
I have decided to email this particular person and I will write a short email as if I am a sales representative. I will send the actual email from my wifes email address to make the exercise more real. Even though I know this person is Afrikaans I will do the email in English for your benefit.
Jacques
I noticed that you offer accommodation in Marloth Park (Ribbok Accommodation). We can assist with marketing your property in Marloth Park.
We offer very affordable advertisements in the form of mini-websites on our popular websites:
www.krugerwildtuin.co.za
www.marlothparkproperty.co.za
We charge a once-off fee of R1,800 in exchange for a lifetime advert on these websites.
These websites are already getting traffic via search engines such as Google.
See for yourself for example by searching on Google for Krugerwildtuin + Akkommodasie. You will find www.krugerwildtuin.co.za high up on page 1.
Alternatively, we build websites for self-catering holiday homes. R2500 for the initial design, R200 for a new domain registration renewed annually at R150, monthly hosting = R180.
Kind regards
Melanie