Marloth Park Marketing Services
---
{{item.currency}}
{{pricing}}
---
---
{{item.currency}}
{{pricing}}
{{item.currency}} {{item.normalPrice}}
---
{{item.currency}} {{pricing}} - Out of Stock

I assist holiday accommodation establishments in Marloth Park, and property service providers to market their establishments / services in Marloth Park via niche websites as well as via Facebook. I do this via:
Facebook Marketing and dedicated website for Marloth Park
Being web designers we spend a considerable amount of time online and monitor Marloth Park enquiries on Facebook on a daily basis.
I am the admin of the Facebook group Marloth Park Property Only which is backed by the website www.marlothparkproperty.co.za .
The website also has a business directory for property service providers such as property maintenance and building contractors.
You have the option to get a mini website on the Marloth Park Property website or have your advert link to your own website, benefitting your website's SEO efforts.
Cost for a 5 year advert = R900
See the accommodation section on the website: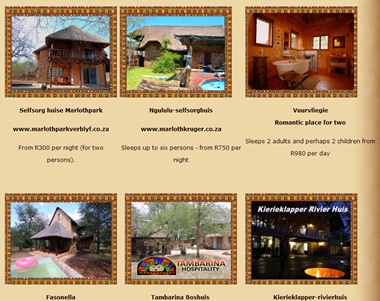 www.krugerwildtuin.co.za
I am also the owner of the Afrikaans website, www.krugerwildtuin.co.za, a website focused on accommodation inside as well as outside the Kruger National Park where I have created a special section for self catering holiday homes in Marloth Park : https://www.krugerwildtuin.co.za//a/25615/marlothpark-selfsorghuise
You get a mini website in Afrikaans and can choose to have your advert linked to the mini website or your own website.
Cost = R900 for a 5 year advert
Both these websites are found via Google searches
Websites from R2,500
I am a partner in a web design partnership, Buddy Web Design and have been designing websites and assisting people with SEO for more than 10 years. Our websites are ideal for holiday home owners as we have a special booking calendar which can be linked to online payment gateways.
The monthly hosting is R165, new domain registration is R200. Domains are renewed annually at R150.
Get free adverts on both www.krugerwildtuin.co.za and www.marlothparkproperty.co.za with your website and hosting agreement.
Examples: